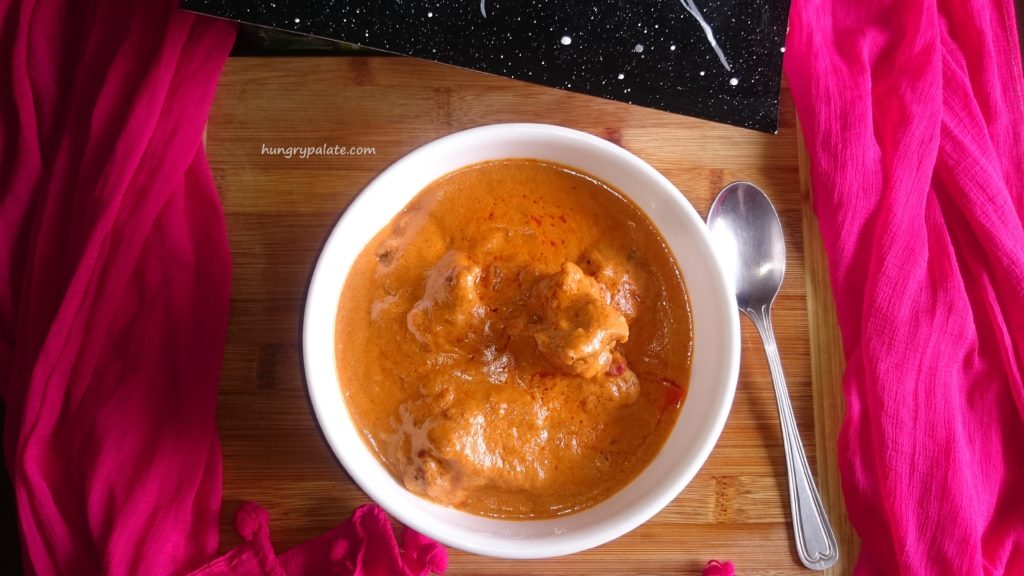 Chicken!!! Who doesn't like chicken tell me? Butter Chicken? yummm…
Chicken is rich in proteins and consumed post-workout for muscle gain.
A wide variety of recipes are made with chicken in every CUISINE. These can be boiled, fried, grilled and taken in any form except raw of course :-P. Boneless Chicken Fry is my all time favorite, I like the chicken without the bone. I personally feel that Non-Veg recipes can be made quicker than veggie recipes.
With 1.2KG (2.64 Pound or 42.32 Ounce) boneless with little bone on, I prepared three variety of dishes
Butter Chicken-Made With 2 leg pieces and flesh with bone on little, weighed about 600grams
Chicken Fry With Lollipop Base

-Made with Breast pieces and boneless weighed about 300 grams

Chicken Soup-Leftover bony pieces with little flesh on weighed about 300 grams
Usually, Butter Chicken is made by adding CREAM and KASURI METHI/dry fenugreek leaves in the end once the entire recipe is done.
But today I'm going to share the recipe without these two. Believe me, it just tasted the same as we get in restaurants even without CREAM and KASURI METHI. 😀
Now let's jump into the recipe
Ingredients
For Marination
Chicken-600 Grams ( I took Boneless including leg pieces)
Turmeric Powder-1 Teaspoon
Chilly Powder-2 Teaspoons
Salt-2 Teaspoons
Ginger Garlic Paste-1 Teaspoon
For Frying
Marinated chicken
Butter-1 Teaspoon
Oil-1 Teaspoon (optional)
For Masala
Onions-3 Medium Sized
Tomatoes-3 Medium Sized
Cloves-3
Cinnamon-1 Inch
Chilly Powder-1 Teaspoon
Red Chillies-3
Cashews-20
Butter or Oil -1/2 Teaspoon
Procedure for Butter Chicken
Take chicken in a bowl, add all the ingredients under "For Marination", mix well and marinate for an hour. (also you can marinate overnight for enhanced taste)
Meanwhile, finely chop the onions, tomatoes, cashews and keep it aside
Heat a pan, add the oil, once the oil is hot add onions and fry until translucent.
Once the onions turn translucent add in the tomatoes, red chilies and fry until tomatoes turn mushy.
Once the tomatoes turn mushy, add in the chilly powder, cashews and mix well
Turn off the heat and allow the mixture to cool.
Meanwhile, take a pan, add in the butter, oil and heat it until butter begins to melt
Once the butter melts, add in the marinated chicken and fry on both sides until lightly brown. Transfer it into a plate and Keep aside (Use the same pan for preparing the recipe)
Now put the onion mixture in a mixer jar and grind to a smooth paste by adding little quantity of water until you get the desired consistency.
Take the same pan, add in the ground paste, cover the lid and cook for 2 minutes
Once the gravy started to boil, add in the chicken and mix gently.
Cover it and cook for 3 minutes (keep stirring for every one minute as it may stick to the bottom of the pan due to cashews)
Once it's cooked Add in the salt, chilly powder and mix well.
Serve the Butter Chicken hot with Chapathi or Roti or Bread Toast ( I had with Bread Toast it was Yumm…)
Tips
-Vegetarians may replace chicken with Mushrooms
-You can even add Almonds without skin along with cashews. Soak the almonds overnight or for an hour, remove the skin and put along with cashews.